PEAK SEASON FOR MURDER
"A LOVEY AWARD WINNER!!"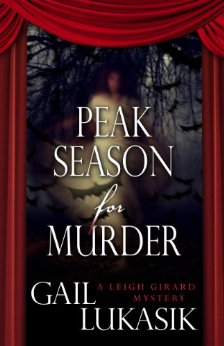 Five Star/Cengage Hardcover 2013,
ISBN 978-1-4328-2729-8
Buy the hardcover from B & N — Amazon
— Five Star/Cengage
Audio book will soon be available at Books in Motion
Twenty-three years ago local actress Danielle Moyer vanished after starring in a play at the Bayside Theater. Her body was never found.
Now the specter of her ghost has returned to haunt the Bayside Theater or so it seems. A series of pranks is plaguing the theater and someone is leaving clues in the abandoned Moyer cabin.
Door County Gazette reporter Leigh Girard, who's writing an article on the theater, chalks the pranks up to theatrical hijinks. She's engrossed in investigating the murder of Brownie Lawrence, a formerly homeless man she befriended.
Desperate to prove his long-time friend, Ken Albright didn't kill Brownie, Leigh digs into Brownie's past and discovers Brownie wasn't Brownie. He'd assumed another's man identity. But she's no closer to proving Albright innocent.
When the theatrical hijinks turn deadly, Leigh suspects that the fate of Danielle Moyer has triggered a murderous revenge. What she never expects to find is a killer so vengeful—anyone is fair game including her.
Praise for Peak Season for Murder:
"The exciting climax will keep the pages turning. The intricacies of the characters and relationships add spice to the continuing story of Leigh Girard." —Mel Jacobs, Gumshoe
"I loved it! Peak Season for Murder is mystery and suspense at its peak. Gail Lukasik has written a smart, literate page-turner and gives us the best kind of protagonist in Leigh Girard—strong, flawed, and someone you definitely want to meet up with again and again!" —Molly MacRae, author of the Haunted Yarn Shop Mysteries
---
THE LOST ARTIST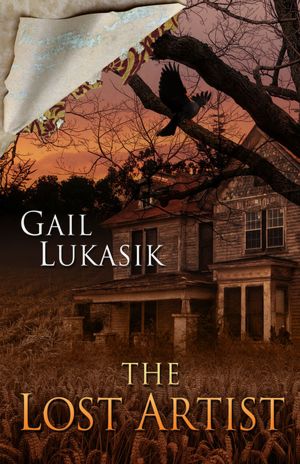 Five Star/Cengage Hardcover 2012, ISBN 978-1-4328-2576-8
Buy the hardcover from B & N – Amazon
– Five Star/Cengage
Audio book will soon be available at Books in Motion
Chicago performance artist Rose Caffrey is desperate to sell her sister's nineteenth-century farmhouse in southern Illinois. She's haunted by her sister's death from a fall inside the house.
But when Rose discovers four mysterious murals in an upstairs bedroom, she becomes obsessed with deciphering the murals' meaning. What the murals reveal launches Rose on a quest for one of the greatest lost art treasures of sixteenth-century America.
As she uncovers buried secrets going back over four hundred years with the potential to shatter the very foundation of American history, she finds that beneath the layers of time lurks a truth worth killing for.
See the murals that inspired The Lost Artist.
Praise for The Lost Artist:
"Lukasik has crafted a highly intriguing tale loaded with suspense and historic interest." –Kirkus Reviews
"Rose's present-day sleuthing and the intertwined tale of the original homeowners command our interest until the final page." –Publishers Weekly
"Pulse-pounding action and breathtaking suspense combine as Lukasik weaves her tale of strong, determined women and the astonishing truths they uncover. This is a wonderful read. Highly recommended."~ Julie Hyzy, author of the White House Chef mysteries and Manor House Mystery series
"This book is the author's first stand-alone mystery and she does a fantastic job of writing and characterization. Previously, she has written the Leigh Girard Mystery Series. Good luck with this new addition to her accomplishments." –The Feathered Quill
---
DEATH'S DOOR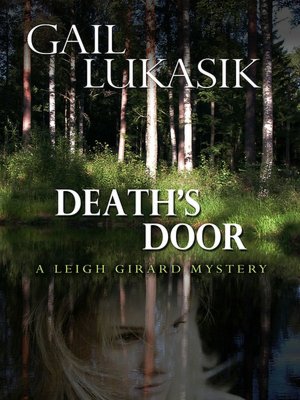 Five Star/Cengage Hardcover 2009, ISBN 978-1594147142
Buy the hardcover from B & N – Amazon
Buy the e-book from Amazon
Buy the audio book from B & N – Amazon – Books in Motion
The second Leigh Girard mystery
On the eve of tourist season, the Door County police are about to release a list of area sex offenders, when Janell Margaris, the teenage daughter of a wealthy Chicago real estate developer, disappears near her summer home.
Joining the search team, Leigh combs the desolate Mink River area and stumbles upon a macabre murder scene—a girl's dead body, carefully arranged to mimic sleep, except for her blonde hair, covering her face.  Brushing the hair aside, a stunned Leigh discovers it's not Janell, but her friend, Stephanie Everson, the last person to see Janell before she disappeared.  The next day Janell is found hiding on the Washington Island ferry claiming no memory of where she has been.
Leigh's investigation into Stephanie's murder draws her into a bizarre and lethal correspondence with the killer.  In his letters, the killer taunts her with a cryptic, literary clue: "The wheel has come full circle.  I am here like a river running through her."  Before Leigh can crack the killer's literary clue, a second young blonde woman's body is found along the Mink River.  Now Leigh races against time to decode the killer's message before he kills again.
Praise for Death's Door:
Death's Door "is fast-paced and literate, with a strong protagonist and a puzzle that keeps you guessing." —Kirkus Reviews
"Leigh Girard is worthy of companionship with Jane Tennison, Adam Dalgliesh and the most complex of modern mystery novel sleuths." —Judy Valente, PBS-TV and Chicago Public Radio
"What an exciting story! I could not put this book down. All the characters are so well drawn. Lukasik is a brilliant new writer. This is the second book in the Leigh Girard mystery series I am looking forward to reading many more of her books. Leigh Girard is a fascinating survivor." –Maureen Bouffard, I Love a Mystery
Death's Door is a must-read for mystery fans. It has excellent pacing and a great heroine. Gail Lukasik has a knack for creating suspense and maintaining the tension. Lukasik may still be relatively new to the mystery genre, but she could definitely be at the top of the field. Front Street Reviews
---
DESTROYING ANGELS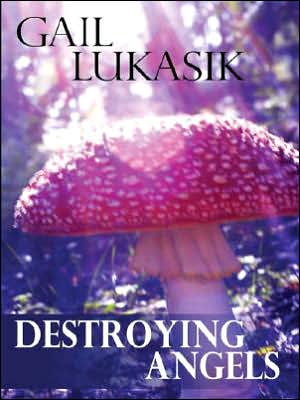 Five Star/Cengage Hardcover 2006, ISBN 978-1594143601
Buy the hardcover from B & N – Amazon
Buy the audio book from B & N – Amazon – Books in Motion
Five Star/Gale
The first Leigh Girard mystery
Chicago native, Leigh Girard has fled to Egg Harbor, Wisconsin, a remote artist community on the Door County peninsula, to heal from her recent mastectomy. "Cancer does that—yanks you out of your life," she observes with her usual wryness. Determined to start a new life, she has left her troubled marriage and teaching career to take a job as a reporter with the Door County Gazette. Her first assignment: an obituary.
While investigating a wrongful death claim by Eva Peck, the widow of a restoration craftsman, Leigh suspects that Carl Peck didn't die of natural causes, but was murdered. When it's discovered that Peck, an amateur naturalist, died from mushroom poisoning, Leigh's suspicions are confirmed. Yet, according to the locals, murder just doesn't happen here.
The case turns even more puzzling when Peck's daughter attempts suicide a week after her friend, the local librarian, kills herself. In the process of solving Peck's murder, Leigh uncovers another murder committed twenty years earlier that links the past with the present.
Her obsession with finding the connection between these two murders puts her in conflict with the community and eventually jeopardizes her life. Confronted once again with her own mortality, Leigh finally faces the emotional scar left by her mastectomy.
Praise for Destroying Angels:
"The stark beauty of the Door peninsula provides the backdrop for this riveting debut thriller. Plan on an all-nighter." —Kirkus Reviews
"Leigh Girard walks into a web of old crimes, fresh murder, and danger. Leigh is a believable, likable character. Well-plotted and fast-paced." —Barbara D'Amato, Award-winning mystery writer
"A Who-Done-It for You." —Mamm Magazine
"Destroying Angels… portrayal of quirky small-town life is nicely done." —Chicago Sun-Times
"Gail Lukasik provides an exciting, exhilarating and enjoyable who-done-it." —Midwest Book Review