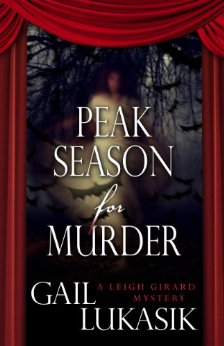 Summer in Door County, Wisconsin has never been so intriguing or so deadly as in my latest Leigh Girard mystery, Peak Season for Murder. I think it's a pretty good book and Mel Jacobs from Gumshoe seems to agree. He said: "The exciting climax will keep the pages turning. The intricacies of the characters and relationships add spice to the continuing story of Leigh Girard."
Peak Season for Murder owes much to former Chicago Tribune editor, and friend, Robert Davis. Bob taught journalism courses in the Nonfiction writing program at the University of Illinois at Chicago when I supervised the program. An affable guy and a wonderful storyteller, he told me that one summer he spent a weekend with Door County's Peninsula Players Theater, the oldest resident summer theater, for an article he was writing. "Those people know how to party," Bob said. "You should include them in one of your Door County books."
That's exactly what I did in Peak Season for Murder. I didn't spend a weekend with the players; but I interviewed the actors and the artistic director, sat in on a rehearsal, and delved into their fascinating history.
When the book opens local actress Danielle Moyer has been missing for twenty-three years. She vanished after appearing in a play at the Bayside Theater. Her body was never found.
Now a series of bizarre events is plaguing the Bayside Theater. Leigh, who's writing an article about the theater, dismisses the events as pranks. She's engrossed in investigating the murder of Brownie Lawrence, a formerly homeless man she befriended.
What happened to Danielle, why her disappearance unleashes a murderous revenge twenty-three years later, and how Brownie's murder figures into the revenge is the journey of Peak Season for Murder.
If I've peaked your interest, I invite you to join reporter Leigh Girard, who's finding that for her summer may be the deadliest season yet in Door County, Wisconsin.
ALSO AVAILABLE: