White Like Her: My Family's Story of Race and Racial Passing is now available for preorder at Amazon.com at a special price. White Like Her (Skyhorse Publishing, N.Y.) will be released October 2017.
We all think we know who we are. We all believe what our parents tell us about our families. Sometimes what they don't tell us is the real story. That's what happened to me.
White Like Her tells the story of my mother's racial secret and her determination to take that secret to her grave, the finding of her lost family, and how the discovery of my real racial heritage irrevocably changed me and my family. The book is an interweaving of memoir and social history. My mother's personal story and my journey of self-discovery and redemption are told within a larger historical context, transcending the personal to illuminate the history of race and racial passing in America.
To read an excerpt from White Like Her go to http://msmagazine.com/blog/2016/05/17/secrets-and-lies/
Backstory on White Like Her
I'm a mystery author and there was a family mystery I was never able to solve. The mystery revolved around my maternal grandfather, Azemar Frederic. I'd never seen a picture of him, didn't know when he was born or died. All I knew about Azemar was that he lived in New Orleans, Louisiana, and was my mother's father.
My curiosity about Azemar and the Frederic side of the family led me on an odyssey spanning over twenty years, involving a vow I made to my mother never to reveal her secret until after her death, and ending with my appearance on the national PBS show Genealogy Roadshow, St. Louis Central Library episode.
What I found out about the New Orleans Frederic family and what the PBS show discovered and confirmed about them was a major life-changing event, coloring everything I thought I knew about who I was and where I came from.
After the show aired, I received an outpouring of good wishes and shared stories. Many people asked me if I was going to write a book about my quintessential American story.
Genealogy Roadshow was so enthusiastic about my discoveries; they invited me to come to Los Angeles to share my family story. I had the honor of being interviewed by Kenyatta Berry who chose my family story as her favorite of Season Two.
---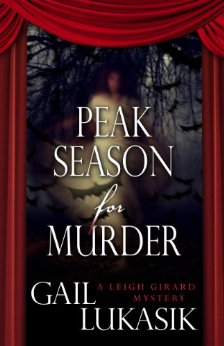 "Peak Season for Murder a Lovey Award Winner!!"
Summer in Door County, Wisconsin has never been so intriguing or so deadly as in my latest Leigh Girard mystery, Peak Season for Murder. I think it's a pretty good book and the Love is Murder conference attendees agree. Peak Season for Murder won a Lovey Award for Best Traditional Amateur Sleuth 2014.
Peak Season for Murder owes much to former Chicago Tribune editor, and friend, Robert Davis. Bob taught journalism courses in the Nonfiction writing program at the University of Illinois at Chicago when I supervised the program. An affable guy and a wonderful storyteller, he told me that one summer he spent a weekend with Door County's Peninsula Players Theater, the oldest resident summer theater, for an article he was writing. "Those people know how to party," Bob said. "You should include them in one of your Door County books."
That's exactly what I did in Peak Season for Murder. I didn't spend a weekend with the players; but I interviewed the actors and the artistic director, sat in on a rehearsal, and delved into their fascinating history.
When the book opens local actress Danielle Moyer has been missing for twenty-three years. She vanished after appearing in a play at the Bayside Theater. Her body was never found.
Now a series of bizarre events is plaguing the Bayside Theater. Leigh, who's writing an article about the theater, dismisses the events as pranks. She's engrossed in investigating the murder of Brownie Lawrence, a formerly homeless man she befriended.
What happened to Danielle, why her disappearance unleashes a murderous revenge twenty-three years later, and how Brownie's murder figures into the revenge is the journey of Peak Season for Murder.
If I've peaked your interest, I invite you to join reporter Leigh Girard, who's finding that for her summer may be the deadliest season yet in Door County, Wisconsin.
ALSO AVAILABLE: